Wednesday March 17th, 2010 2010, In the News
IEQ Global provides Green Solutions for improving indoor environment quality
Interview with Jeffrey Tang, Managing Director of IEQ Global Pte Ltd, a Singapore based SME that is a founding member of the Singapore Green Building Council. The company provides Green Solutions in Singapore and overseas, incorporating the latest technology from across the globe to enable clients to reduce energy costs and improve indoor environment quality.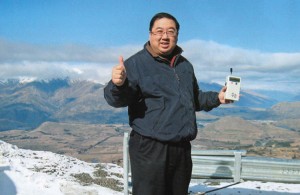 Biz Daily:
As the Managing Director of the Heritage Hotel group in New Zealand, you operate some 1,600 four-star plus hotel rooms and serviced apartments across both islands in New Zealand. What motivated you to start IEQ Global in Singapore?
Jeffrey Tang:
When we first entered New Zealand in 1993, we were awestruck by its unspoiled beauty and its seemingly bountiful natural resources. But as we started to build the Heritage Group to become New Zealand's premier hospitality group, we realised how much the local businesses and populace adopted Green practices for the sake of protecting the environment. Their strong recognition of the fragility of the planet has been converted into action to protect it. When we achieved the New Zealand Green Globe certification for our hotels and serviced residences, we decided to adopt the best practices and solutions to enable other corporations and individuals in the region to Go Green. We started IEQ Global in Singapore and felt that Singapore is the ideal starting point to venture into the region.
Biz Daily:
What does IEQ Global do?
Jeffrey Tang:
We provide our clients with practical solutions for them to Go Green. These include Intelli-NRG Lighting solutions and controls systems that enable buildings and homes to reduce energy by over 75 per cent; Intelli-Coil Enzyme treatment for commercial and industrial air conditioning systems that reduce energy by over 10 per cent and optimise performance by 20 per cent while protecting and extending the lifespan of systems; HealthWay Enhanced Media Filtration (EMF) air purification systems that are US Food and Drug Administration (FDA) listed to trap and kill up to 100 per cent of all harmful airborne particles, viruses and bacteria.
Biz Daily:
Who are IEQ Global's target clients and what solutions do they ask for?
Jeffrey Tang:
Over the past few years, we have worked extensively with building/home owners, facility managers, energy consultants, engineers and designers to provide energy saving solutions that are cost-effective, self-sustaining and of course, practical to implement. Our client portfolio includes individuals, local corps- rations, multi-nationals and Governments. In the past year alone, we have seen more clients approach us for Green solutions. We believe that there is a growing awareness of the need to adopt environmentally friendly practices due to cost savings or social responsibility.
Biz Daily:
What challenges does IEQ Global face?
Jeffrey Tang:
As in all things revolutionary, there will be early adopters and those who "wait and see". We have met a fair share of both. We have seen companies who have been unable to make the decision to adopt Green practices because they simply don't see the need to. There are also those who are unwilling to make the initial investment to save over the longer term. Aside from indecision and procrastination, there are also unscrupulous or ignorant vendors in the market who peddle solutions that are either unproven, don't work, or even worse are harmful to the environment and equipment when used. We hope to be able to educate the market about the importance of Going Green with proven and certified solutions that actually deliver what they promise to.
Biz Daily:
What is the future for IEQ Global?
Jeffrey Tang:
We do not foresee any long term reduction in energy costs. The planet only has a limited amount of natural resources to sustain an ever-increasing human population. The insatiable need for energy will eventually lead to the realisation that we have to live and work with alternative sources of sustainable energy and implement measures to reduce energy consumption. IEQ Global is in the business of helping clients do just that. Our in-house Research and Development Team constantly tries to expand our growing portfolio of Green solutions to meet clients needs. Our Founding Chairman has been active in the local and regional business scene for the past 50 years and we hope to enjoy the same longevity.
Biz Daily:
What is your view of the Green Market in Asia?
Jeffrey Tang:
It is definitely a growing market that should be paid serious attention. On one end of the spectrum, there are environmentally conscious countries like New Zealand that go to great lengths to be Green, while on the other, there are developing and emerging economies that are just starting to realise that irreversible damage has already been done to the environment. The important thing is that countries accept that there is a need to grow in an environ- mentally responsible fashion. I would look forward to the day when Asian Governments collaborate on a regional initiative to Go Green and assume a leadership role on the world Environmental Sustainability stage.
Biz Daily:
What is your personal view on being Green?
Jeffrey Tang:
Personally, I have embraced Green practices at work and at home. For instance, our hotels and serviced apartments are Green Globe certified and I don't have a single incandescent light bulb at home. The planet has been in existence for a very long time and as stewards, we should ensure that it continues to support future generation and this brings me back to our vision for starting IEQ Global in the first place. We have the proven Green solutions and are keen to share them with the world
Short URL:http://bizdaily.com.sg/newsite/biz-interview-with-jeffrey-tang-managing-director-of-ieq-global-pte-ltd/