HealthWay
To address air quality related issues such as Sick Building Syndrome and airborne viral transmissions, IEQ Global introduces HealthWay™  DFS (Disinfecting Filtration System) air purification systems. Developed with U.S. Department of Defence to combat germ warfare, DFS systems are the only ones that are tested to trap AND kill up to 99.99% of all airborne viruses, bacteria, mould and pollutants down to 0.3 microns.
A U.S. FDA as a Class II Medical Device, the HealthWay™  DFS system produces no harmful substances (OH radicals OH, ozone). With options for ceiling-mount or stand-alone use, DFS systems have been used to eradicate airborne pollutants in hotels, hospitals, clinics, offices, retail malls and homes in Singapore and worldwide.
The HealthWay Guarantee
Indoor air that has minimal levels of odour, including those from organic sources such as durians and cooking, as well as chemical vapours such as those produced by glue, paint, furniture, cigarettes, and haze that are harmful to health.
An extremely effective reduction of airborne pollutants – proven with real-time laser particle counters.
An Improved quality of life for allergy sufferers such as asthmatics.
An indoor environment that is has the lowest possible amount of airborne bacteria and viruses.
HealthWay Certified Destruction Rates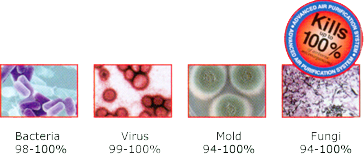 Awards
US NASA Technology 2005 SBIR (Innovation)
US National Research & Development
Best New Design (Product): US International Housewares Show
Certifications

ISO 9001
CSA
UL
EMI
FDA Listed Class 2 Medical Device