Stop the Smoke!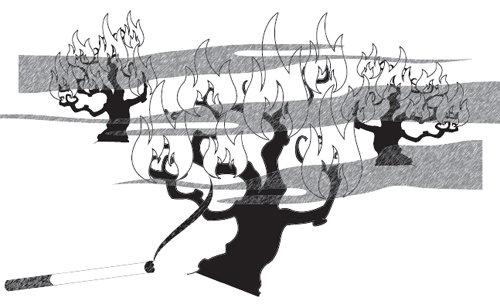 As air is fluid in nature, Singapore's air quality is contingent upon that of our neighbours'. In recent times unfortunately, forest fires in our neighbouring countries coupled with the prevailing Southeast Monsoon winds have seen Singapore afflicted with smoke haze.
According to the National Environment Agency (NEA), during the haze, fine particulates enter an air-conditioned building through the intake of fresh air and by infiltration through openings and gaps. Indoor particulate levels can thus build up to unacceptable levels, having undesirable health effects on the occupants of the building.
In light of the recurrent trans-boundary smoke haze from Indonesia and the associated health threats, it is vital to manage our indoor air quality and consequently decrease the chance of contracting respiratory problems. The HealthWay DFS (Disinfecting Filtration System) Air Purification Systems is the perfect antidote.
The HealthWay DFS Air Purification Systems have been independently tested by the National Indoor Environmental Quality Research & Innovation (NIEQRI) in the U.S. to achieve 99.99 percent efficiency in the elimination of all airborne contaminants. In other words, the HealthWay DFS Air Purification Systems are certified to eliminate all airborne pollutants such as smoke, haze, ammonia and other organic or chemical related odours. It is able to achieve this by breaking down the molecular structures of molecules to render them inert, destroying the pollutant completely.
The preferred choice of air purification in hotels, hospitals, schools, offices and homes across the world, the HealthWay DFS Air Purification Systems are currently used by ParkwayHealth hospitals and other medical centres in the region.
If you would like to witness the HealthWay DFS Air Purification Systems in action, do make an appointment with us to view it at work in our office. Alternatively, you can watch the online video here.
More importantly, click here to find out where you can land your hands on the World's Most Effective Air Purification System.