Friday December 14th, 2007 2007, In the News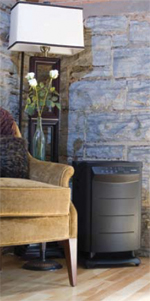 We spend 90 percent of our time indoor, do you know that indoor air is 100 times more polluted than outside air? Synthetics and chemicals from our home fittings and furniture contribute to high level contaminants in our air.Furthermore, health concerns are on the rise and consumer consciousness has increased about harmful airborne contaminants as results of the Avian Flu, SARS, Anthrax, Ecoli and Legionella. IEQ Global provides premium products to protect you and your love ones against harmful bacteria, viruses, mold/fungi, gases and particulate matters which aggravate asthma, allergies and sinusitis. Health or Wealth?
Price: Upon Request
Tel: +65 6377 1300
www.ieqglobal.com
Click here to read the original article.