Thursday February 28th, 2008 2008, In the News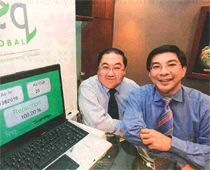 IEQ Global Pte Ltd was set up two years ago by New Zealand hoteliers, Mr Keith Tang and Mr Jeffrey Tang with the intention of "bringing" clean air from New Zealand back to Singapore and providing solutions to indoor environmental quality needs.
The Tang brothers belong to the third generation of the C.K. Tang legacy. According to Executive Director of IEQ Global, Mr Jeffrey Tang, his father, Mr Tang Wee Cheng was the founder of Dynasty Hotel in 1980s and the Tang brothers has followed their father's lead in the hotel business and set up a chain of 10 hotels in New Zealand under the Heritage Hotels brand.

Explaining his interest in indoor environmental quality (IEQ) while being in the hotel business, Mr Jeffrey Tang says, "I have always been in search of new ways to improve my hotel's quality, especially in areas of service and cleanliness, specifically in the area of air quality. One day, I spotted an advertisement in the newspapers for allergy friendly hotel rooms and became inspired by the significant potential of the indoor environmental quality industry."
Mr Jeffrey Tang points out that Singapore's air quality pales in comparison in relation to New Zealand's. The results from a direct comparison using a particle counter revealed that the particle count for a resort in Queenstown showed 600,000 particle count per cubic foot whereas a measurement taken at Newton district in Singapore showed 3,000,000 particle count per cubic foot.
He explains that particle count shows the composition of bacteria and virus in the air. Higher particle counts translate to more harmful gases in the air which will affect a human's health. "A particle count of less than 1 million per cubic foot is an acceptable level for human's comfort."
Hence, the Tang brothers decided to set up IEQ Global and "bring" clean air from New Zealand to Singapore.
Mr Tang further explained that Singapore is an "air conditioned city". Most people spend more than 90% of their time indoors. Hence the quality of air in their indoor environment becomes vital to health.
For example, one of IEQ Global's client was detected to measure a 20 million particle count in their Singapore factory. Staff had been complaining of excessive stuffiness and persistent odour problem.
"Every building has a "respiratory system". When the "respiratory system" becomes clogged with bacteria, viruses and mould, it becomes a "sick" building and will cause discomfort to the building occupants."
He points out that improving indoor environmental quality not only protects the building occupants' health and aids in reducing carbon footprints hence encouraging environmental protection. For example, when one falls ill, he may opt to take a less crowded mode of transport such as taxis or cars so as not to spread his germs to others, this will indirectly cause more carbon emissions. IEQ Global also has a multi-enzyme based treatment for cooling coils which is biodegradable and aids in energy savings for air conditioning systems.
Five essential components of indoor environmental quality
There are five major components to indoor environmental quality: ventilation, air quality, temperature, noise and illumination. IEQ Global recommends a customized solution to each client's problem upon site inspection.
IEQ Global's current clientele includes multinational companies such hotels, commercial buildings, factories, marine vessels etc..
Mr Tang further explains that indoor environmental quality may be a premature industry but there are many companies who have seen the benefits of this service. A commercial bank corporation has taken steps to install air purification systems within the offices to provide better working environments for their staff which in turn reduces staff absenteeism and medical bills, hence resulting in higher productivity and profitability for the organization.
Click here to read full article