Sunday February 20th, 2011 2011, In the News, Media
The hourly changes in natural daylight impact individual moods by day. By night, artificial lighting takes over to elicit psychological responses. The synthesis of changing light levels, innovative interior designs and desired decorum provide food and beverage outlets with unique identities.
Advocating the use of energy saving lighting and control solutions, IEQ Global has been working with clients to transform Singapore night scene into a vibrant, aesthetically attractive, yet environmentally sustainable one.
Clarke Quay – Uniquely Vibrant and Energy Saving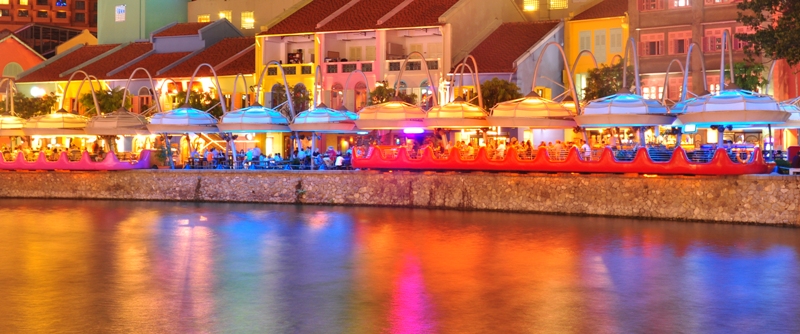 Following an extensive makeover, Clarke Quay heralds a renewed interaction of modern Singapore and its rich history. Along the Singapore River by night, futuristic, fairy-like umbrella and bell flower shelters uncover a different realm with an eloquent blend of style and ambiance.
The extensive use of energy saving dimmable compact fluorescent lights brings a new dimension to the alfresco dining experience. Moods change as light levels are dimmed to achieve a relaxed atmosphere, yet each upscale outlet is able to maintain its uniquely assigned lighting color identity.
Decorative in-ground LED (Light Emitting Diode) lamps in weather proof fittings are found at the base of massive shelters at each pedestrian thoroughfare. These form enchanting illuminated pathways form the heart of Clarke Quay to the alfresco dining areas by the River. Functionally, they are decorative, yet energy saving.
Balaclava – Light Adaptive and Transformational

The uber-trendy Balaclava@Ion brings an ambience that is hip and relaxed. The lighting concept integrates the watering hole with the Ion Building's iconic facade lighting, infusing privacy where possible.
The bar operates from 3pm until the early hours of the morning and individually zoned lighting controls manage mood lighting. The linear design of the bar is first illuminated by natural daylight. At dusk, the lighting level is gradually lowered. By 8pm, the building's facade lighting diffuses into the bar. For patrons, this heralds the evening's arrival.
Entrances to the restrooms are a conversation point with a purpose-built projector spotlight casting the restrooms genders onto the floor. This cheeky interplay of lights provides an aura of adventure for patrons: Miss the light and risk entering the wrong door.
Green By Day, Green By Night
The evolution towards Green lighting solutions continues to make an impact on Singapore nightlife. IEQ Global enables clients to make their marks in the ever-vibrant and energy efficient night scene.