Wednesday April 20th, 2011 2011, In the News
Lighting is multifunctional. It is practical yet emotive. The primary objective of enabling vision is often complemented with the need to elicit moods or emotions to drive thoughts and behaviours. With a large percentage of time spent indoors, it is important that lighting design serves both function and feeling. Going beyond, intelligent lighting design maximises energy efficiency for environmental sustainability.
Induction lamp technology is an ideal solution that addresses this.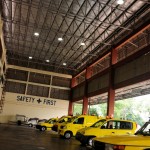 International Airport
Requiring bright intensities to cover long distances at night, induction lamps are installed in mission-critical areas where blackouts are not an option. Fire stations and maintenance hangers demand lights that instantly re-strike to reach optimum brightness in an emergency, unlike conventional metal halide lamps that need at least 20 minutes to do so.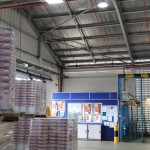 Flammable Chemical Plant
With hazard prevention a critical concern in storage facilities for highly flammable and hazardous chemicals, induction high bay and wall light fittings are explosion proof. Induction lamps generate low heat and contain minimal chemicals that are not released into the environment when recycled. In such a risk adverse environment, a far-ballast system may be deployed by locating the ballast away from the light source to facilitate maintenance safety.
Commercial and Retail Hub
Ideal for atriums, induction high bay lights can reach beyond distances of 10 metres to 12 metres. With long life spans, lamp replacement is reduced for access-challenged areas. In line with Green Mark objectives, lighting costs are lowered by 60 per cent for energy use, 30 per cent for maintenance and 50 per cent for materials. In areas with high human traffic, balanced brightness metrics and high 80+ colour rendering index (CRI) ensures optimal visual comfort with true-to-life colour visibility.
Covered Car Park
Operating 24 hours daily, metal halide lamps emit excessive heat and glare, escalate energy costs and have high burnout rates due to filament failures. Induction lamp replacements reduce energy consumption by over 50 per cent and lowers ambient temperature. The filament-free design means that induction lamps last over five times longer with low failure rates. Non-flickering, low lumen depreciation and evenly distributed polar curves facilitate accurate spatial judgements that are ideal for drivers.
Conservation House Koon Seng Road
In meticulously restored interiors designed a decade ago by architect, Chan Soo Khian, this classic home underwent a house-wide refitting from incandescent to induction lamps. Induction lamps are compatible in lux, colour temperature and aesthetic outlook. Reduced energy consumption saves air conditioning costs, improves thermal comfort and enables the heritage-rich Peranakan architecture to stand out.
Green Lighting Footprint
In line with incorporating Green technology in all lighting designs, IEQ Global embraces the use of Induction lamp technology to replace conventional light sources, like metal halide, pressurized sodium and fluorescent. Apart from Induction lamps, IEQ Global also supplies other energy efficient lighting technologies, such as LED and Plasma lights.