Wednesday June 1st, 2011 2011, In the News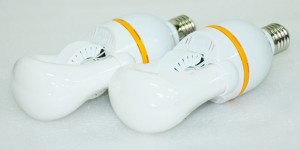 You've started to replace your energy guzzling incandescent bulbs with energy-saving compact fluorescent (CFL) bulbs, but now there's a greener contender for the throne.
Induction bulbs might be a little larger than your conventional CFL, but they last about five times longer, which means you only need to change your bulb once every 15 years (depending on usage).
Induction bulbs use electromagnetic induction to react with a phosphor coating on the inside of the bulb to produce light, using 60 per cent less energy than CFL, with little heat emission so that you enjoy savings on your electricity bill too.
The ones from IEQ IntelliNRG are available in warm to white light, and like CFL, contain small amounts of mercury, but IEQ's is in solid form and can be recovered from the bulb if recycled.
IEQ IntelliNRG Induction bulbs come in 12, 23 and 40 watt versions.
IEQ Global is a leader in cutting-edge Green lighting technology. Apart from Induction lamps and bulbs, IEQ IntelliNRG lighting also encompasses LED and Plasma light sources to match the varying needs of our clients.