Thursday September 22nd, 2011 2011, In the News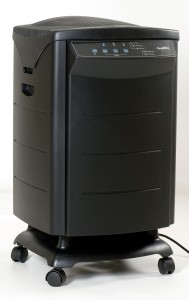 URL: http://bizdaily.com.sg/newsite/biz-health-beating-the-haze-with-air-purification-systems/
Given the trans-boundary nature of air, Singapore's air quality is very dependent on that of its neighbours'. Unfortunately, the combination of forest fires in neighbouring countries and the prevailing southeast monsoon winds has resulted in Singapore suffering from smoke haze in recent memory.
According to the country's National Environment Agency, fine particulates enter an air-conditioned building through the fresh air intake and by infiltration through openings and gaps during the haze period. The indoor particulate levels can build-up to unacceptable levels, causing undesirable health effects on the occupants of the building.
In light of the current trans-boundary smoke haze from Sumatra, Indonesia, and the health threat it poses, it is an imperative to manage Singapore's indoor air quality to decrease the chance of contracting respiratory problems.
IEQ Global said its HealthWay EMF Air Purification Systems have been independently tested by the National Indoor Environmental Quality Research & Innovation in the US to achieve 99.99-per cent efficiency in the elimination of all airborne contaminants.
In other words, the HealthWay EMF Air Purification Systems are certified to eliminate all airborne pollutants such as smoke, haze, ammonia and other organic- or chemical-related odours. It is able to achieve this by breaking down the structures of molecules to render them inert, destroying the pollutant completely.
'The haze is no match for HealthWay EMF Air Purification Systems', said Ong Wei Ping, Executive Director of IEQ Global. EMF is the most effective air purification technology in the world.
HealthWay EMF Air Purification Systems are currently used by ParkwayHealth hospitals and other medical centres in the region. They can also be used for air purification in hotels, schools, offices and homes.