Proper illumination will add brownie points to your bathroom's aesthetics and functionality so take it to the next level with this savvy lighting guide. Achieving a successful lighting scheme takes more planning than just installing fancy fixtures, with there being many ways to bring out the best in your bathroom.
LIGHT UP
Bathroom lighting has evolved far beyond a single incandescent light bulb overhead, veering towards design-oriented styles which embrace both form and function. 'We have had a growing number of clients who install chandeliers in bathrooms, mostly intended for decorative purposes,' says lighting designer, Sera Garciano. 'Even so, the lighting scheme in a bathroom has to suit its intended uses and the personalities of the users.'
To achieve good lighting in the bathroom, she recommends layering these different types as well as their possible combinations when planning your bathroom's lighting layout:
Ambient lighting: General lighting that usually takes the form of a single light source in the ceiling or on the wall. Bouncing light off the ceiling can also soften harsh shadows for a more flattering glow, although the emphasis on ambient light in bathrooms has now been superseded by the use of accent and innovative task lights as the main lighting feature.
Task lighting: Probably the most important form of lighting, this type provides concentrated light for grooming and bathing which enables users to groom in proper illumination. These used to be confined to wall-mounted direct lights. However, they can now be embedded into mirrors or backlit mirror lights thanks to advancements in technology and design. Ideally, it should provide cross illumination to create shadow-free lighting on your face.
Accent lighting: Gives depth to a bathroom and is intended to highlight designfeatures of the room such as tiling, mosaic or coves without becoming a feature itself.
A bathroom may also feature decorative lighting, although its purpose would be geared towards aesthetics more than functionality. Decorative wall sconces are a good example. Additionally, try to incorporate natural lighting into your bathroom scheme if possible. Not only does it make a small bathroom feel more spacious, it also casts a gentler and more welcoming light into the room.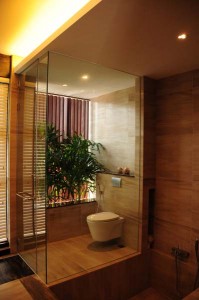 ILLUMINATING QUALITIES
With modern bathrooms becoming more than just a utilitarian space, there has been a shift to creating different atmospheres to suit different situations. For instance, by installing a dimmer, you have the option of bright illumination in the mornings for grooming routines (or as a wake-up call) and soft lighting in the evening for a soothing ambience during a relaxing soak. These also save energy and prolong the lives of your light bulbs, making them a worthwhile investment for the environmentally-conscious. Sera adds: 'The important thing to note is that the level of lighting must be sufficient to highlight the best qualities of a bathroom. For task lighting, its luminance should be independent of ambient lighting options to provide the best colour rendering index (CRI) possible to prevent shaving and make-up mishaps.'
Backlighting mirrors and installing cabinetry lights not only lends more depth and dimension to your bathroom, but also provide illumination for otherwise dark and neglected areas. For people who enjoy reading while on the throne, flicker and glare-free general lighting may be used instead.
POISED FOR SUCCESS
The location of your lights is as important as the amount of light it yields, so ensure that there is sufficient lighting capacity to properly highlight the qualities of your bathroom as well as your own features. For general lighting, the ceiling and walls are the de facto choice for most households, although clever applications of recessed and alcove lighting serve as an excellent alternative for accent lighting. Unlike decorative fixtures, recessed lighting is meant to blend in with the interior space; if the lux level is adequate, it can either supplement decorative fixtures or in some cases, replace ambient lighting.
HOT AND COLD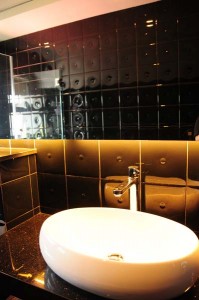 As far as lighting schemes go, their recommended brightness can only be determined through the use of a lux meter, which measures illuminance, or how much light is present in the area. Sera states that based on Singapore standards, general lighting for bathrooms should average 100 lux, while task lighting should average 500 lux.
While warm or cool lighting is a matter of preference, their temperatures can be tweaked depending on the colour scheme of your bathroom. For bathrooms with warm or dark toned walls, cool lighting could be used to complement the richer interiors, while cool and light surfaces could be balanced with warm light to prevent the space from looking clinically sterile.
BRIGHT IDEAS
When it comes to picking light bulbs for the bathroom, certain qualities have to be noted in order for your lights to function at its maximum capacity for as long as it can. These must be installed by professional contractors to ensure that water cannot enter the wiring compartments. Investing in good quality LED lights which are waterproof, moisture and mould resistant are highly recommended, as are drivers which are suitable for high moisture content areas. Check to see if they come with shatter-resistant white acrylic lenses, which eliminate the danger of glass breakage. For higher reliability, Annie Chia, Singapore Country Manager, IEQ Global Pte Ltd, offers an even more eco friendly alternative to LED lighting— induction lighting. She says: 'Like LED, induction lights are glare and flicker free, consume 50 percent less energy, generate less ambient heat and last 50,000 hours without the need for replacement.' It should be noted however, that all light switches should be placed out of reach from major water sources to reduce the risk of electrocution.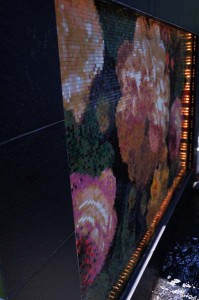 IN A NUTSHELL
A good lighting scheme will bring out the best in your bathroom's design features.
Layer different types of lighting to achieve both aesthetical and functional requirements.
Install a dimmer to change the mood of your bathroom for daylight and night time.
Accent lighting can complement or replace ambient lighting if it is bright enough.