Wednesday November 16th, 2011 2011, In the News
URL: http://bizdaily.com.sg/newsite/marketplace-ieq-lights-up-energy-savings-with-induction-lamps/
Green solutions provider IEQ Global joins the rank of lighting manufacturers offering induction lighting solutions for industrial, commercial and residential applications. This new breed of lighting systems is targeting businesses and households that want to reduce costs and carbon emissions while improving quality and safety.
Induction lights are similar to fluorescent lights in that they use gasses, which once "excited", react with the phosphor that coats the tubes to produce white light. Unlike fluorescent lamps, however, induction lamps do not use electrodes but instead uses the principle of induction, or the transmission of energy by way of magnetic field. This then eliminates the use of filament— the highest single point of failure in conventional lamps.
The result is a bright light that far outlasts filament-based lamps with an unprecedented rated life of over 100,000 burning hours. This is five times longer than common, high intensity discharge (HID) lighting that uses electrodes that degrade significantly over time.
A longer rated life means less replacement which lowers maintenance cost by several factors. Induction lights also use approximately?50?per cent less energy than HID lights, resulting in lower energy costs and emissions.
'Rising energy prices and climate change concerns are driving demand for more energy efficient technologies. Thus, this new range of induction lighting solutions is our contribution for a greener planet,' said Mr Ong Wei Ping, Executive Director of IEQ Global.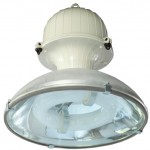 IEQ's induction lamps are ideal for applications where fixtures are hard to reach, whether outdoors like street lighting, indoor applications like warehouses or cold environments like supermarket walk-in coolers and freezers where reliability and functionality is key and maintenance is labour intensive.
In terms of luminous efficacy, the group's induction lamps also have a high colour-rendering index (CRI) that allows colours to be accurately reflected in a more natural light.
Ong added that they also manufacture innovative controls for additional energy savings. This means that their induction lighting system can be equipped with multi-brightness control levels that allow better visual acuity for users.
'Induction lamps offer instant re strike, and they also offer a wider throw and have a more evenly distributed polar curve light distribution,' Ong noted.
Design-wise, customers can choose to customise their lamps with the help of IEQ's three in-house designers to fit customers' design preferences.
Going forward, IEQ is scheduled to go regional to formally launch their induction lighting systems.
In the league of induction lighting manufacturers, IEQ Global is now the third largest globally, with sales and support presence around the world. Here in SE Asia, IEQ Global has offices in Singapore, Malaysia and Indonesia. 'In Vietnam, we just signed a deal with a company that provides green construction materials. We are also looking at expanding to Japan and Australia,' said Ong.
A lot of companies are now joining the green bandwagon and offering a myriad of technologies and solutions. 'Some work while many others have yet to prove themselves. When clients ask, I always tell them that going green means having to spend money to save more money in the coming years. You've got to spend to save,' he added.
Lighting accounts for over 30 per cent of any building's energy consumption. While induction lighting has a higher upfront cost than conventional metal halide, high intensity discharge (HID) and pressurised sodium lamps, it is cost competitive over time due to re-lamping, maintenance and energy savings. Compared with LED alternatives in industrial and general lighting, induction lamps cost up to 50 percent less.
'So we always tell our customers, if you buy induction lights from us, you won't see us for the next five years, unless you have a new building to illuminate of course,' Ong remarked.