Sunday November 6th, 2011 2011, In the News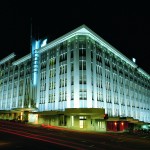 Through the successes from its array of projects, Asia's premier green solution provider, IEQ Global, has cemented its status as a comprehensive lighting specialist for residential, commercial and industrial clients. IEQ Global's expanding portfolio of lighting products and the broad expertise of its lighting consultants provide customized energy efficient and effective lighting solutions to clients.
Transformative Indoor Lighting
Given IEQ Global's arsenal of LED and induction lights, spaces can be transformed on demand. A combination of dimmable T5 and LED lights in a living space can address illumination needs and improve ambience. With a straight polar curve, LED lights excel at illuminating focal spots. Dimmable T5 lights on the other hand, transform the mood at a touch of a button from a bright working environment to a cozy and intimate space.
Sustainable Outdoor Lighting
To showcase a building facade, an induction light or plasma light is an excellent environmentally friendly alternative to conventional metal halides as they consume half the energy compared to the latter. The ultra-bright lux level of plasma lights make it ideal to cover long distances, while the wide photometric curves of induction lights enable it to cover more breadth. A combination of plasma and induction lights thus enable this luxury hotel's facade to be illuminated to its maximum potential, adding character to the Bauhaus styled icon in Auckland, New Zealand.
Practical Commercial Lighting
Induction lights are an excellent choice for commercial spaces such as offices, warehouses and car parks. Today, induction lights offer various advantages over their traditional alternatives. In addition, they provide the same benefits as LED lights but at a fraction of the price. IEQ Global's IntelliNRG LED and induction lights come with competitive pricing, longer lifespan, lower energy consumption, are non-flickering and have high colour rendering index (CRI). Given their obvious advantages, companies in the region, including those in Malaysia and Vietnam, have embraced induction lighting.
IEQ Global Pte Ltd is a Founding Member of the Singapore Green Building Council and a Strategic Partner of the Singapore Institute of Architects.