Wednesday December 5th, 2012 In the News
URL: http://thestar.com.my/metro/story.asp?file=/2012/12/5/metrobiz/12407100&sec=metrobiz
"Induction lighting is the perfect energy efficient choice for commercial enterprises that are seeking for immediate and concrete reductions in operational energy consumption."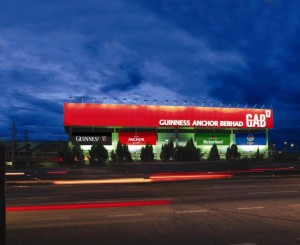 GUINNESS Anchor Bhd (GAB) announced recently that the company expects to reduce its annual electricity consumption by 200,000 kWh, having recently replaced the majority of its conventional high bay metal halide and mercury lamps with IntelliNRG[tm] Induction Lamps from IEQ Global. The newly installed IEQ IntelliNRG Induction Lamps are certified to be green, consuming 55% less energy than conventional metal halide and mercury lamps.
The IEQ IntelliNRG[tm] Induction Lamps have been installed at the Sungei Way Brewery, GAB's main packaging and bottling plant in Selangor. GAB's main packaging and bottling plant in Selangor. GAB's decision to employ energy efficient lighting reflects the company's commitment to reduce energy consumption and promote environmental conservation, in line with its Corporate Responsibility (CR) framework.
"The IEQ IntelliNRG[tm] Induction Lamps have a significantly longer lifespan compared to conventional lighting options, lasting up to 100,000 burning hours. Induction lighting is the perfect energy efficient choice for commercial enterprises that are seeking for immediate and concrete reductions in operational energy consumption. GAB is a great example of a commercial enterprise that is reaping the benefits of a virtually maintenance free operation," said Ong Wei Ping, Executive Director of IEQ Global.
IEQ Global designs, manufactures and supplies energy efficient lighting that has been tested to stringent international standards, including the highest international TUV and IEC standards by TUV SUD PSB in Singapore. Within the region, IEQ IntelliNRG[tm] Induction lighting has been adopted by international and multi-national clients such as IGB Corporation, KIP Group, Westports Bhd and Singapore Changi Airport.
GAB is the first brewery in Malaysia to achieve Hazard Analysis Critical Control Point (HACCP) certification from the Ministry of Health. The utilization of a non-incandescent light source such as Induction Lighting also reflects GAB's approach to effective risk management. The move mitigates the probability of electrical fires and glass contamination arising from faulty incandescent light sources over-heating or exploding.
The Star is Malaysia's leading English newspaper, with readership figures of 1.286 million.